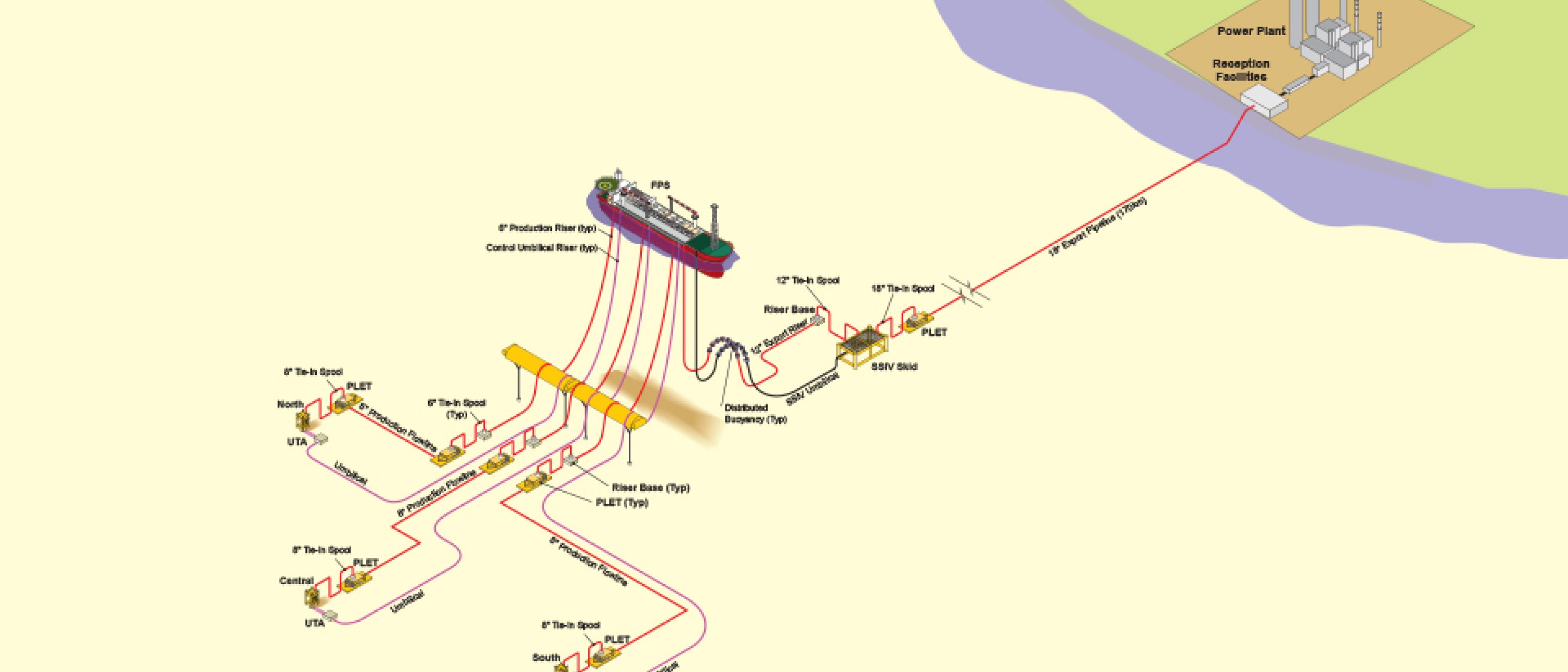 Applicability of CNG Technology
Project type: Feasibility 
Customer: Tullow Kudu Ltd 
Location: Offshore/Onshore Namibia 
The Kudu gas field is part of production licence 001, located about 130km offshore Namibia near the city of Oranjemund, West Africa. It lies in a water depth of 170m. It was discovered in 1974 by Chevron Texaco. 
Since its discovery, the field has been owned by several oil companies, struggling to make it a commercially viable opportunity. The Kudu development is characterised by the relatively severe (for West Africa) met-ocean conditions and poor soils. In 2004, Tullow Oil became the owner of the field through the acquisition of Energy Africa. 
An offshore field development scheme based on utilising novel CNG as the gas transportation medium 
A conventional field development plan focused on a development concept for Kudu supplying gas, via a pipeline ashore, to an 800MW base load power station developed and operated by NamPower, the Namibian state-owned power company. Electricity in excess of Namibia's requirements would be absorbed by the South African market. However, Tullow also wanted to consider, in parallel, options that utilised compressed natural gas (CNG) for transportation to both a potential new build power station at Walvis Bay in Namibia and to the industrial and transport market at Cape Town in South Africa to avoid the costs of multiple long export pipelines. 
Compressed Natural Gas (CNG) is a generic term for transportation to market by ship/carrier of gas at high pressure in the range 130-300 bar. It is claimed by the developers of CNG technology that a CNG concept is generally more effective than LNG or pipeline alternatives, when gas reserves are modest, isolated and distances to the market large. CNG technology emphasis has been on the design of the transportation system/carriers. The main problem here is the high weight, cost and associated safety of the pressure containers on the ship and the primary focus of the research has been to increase the gas volume to weight ratio. This has been accomplished by the use of non-metallic materials, higher yield steel and by optimising the gas pressure/temperature relationship. A number of ship and storage designs have been proposed and developed to various stages. 
Use of CNG for transporting gas has implications on: the processing of reservoir gas prior to storage; the availability of the offloading and loading operations (it is a cyclical loading system and the system is unable to accommodate swing unless additional storage or production capacity is included); as well as the facilities required onshore for the loading operation and the safety of the whole operation. For high availability, a chain of marine vessels, outfitted with pressure vessels, in a constant state of filling, transiting and unloading develop what has been called a floating pipeline where flow from the supply point to the delivery point is virtually continuous. 
Working with CNG technology providers was a prerequisite to get a deeper understanding of the technology and costs involved 
Genesis applied their proprietary world class process to identify alternative options based on gas transported as CNG. Multiple reservoir scenarios, CNG delivery locations and development schemes were considered, including: direct production to multiple CNG ships; production to a dedicated FPSO with gas storage plus CNG shuttle tankers; and production to a dedicated floating production platform with separate storage. Locations in Walvis Bay, Namibia and Cape Town, South Africa were investigated for market delivery. 
Genesis worked with a number of CNG technology suppliers including Transcanada, Enersea and Coselle, to fully understand the technology and develop costings for leased as well as purchased CNG transporters. 
The alternative field development options based upon using CNG as a transportation method were evaluated taking into account costs, availability and business risks for comparison with a traditional pipeline option. 
Key risks were identified in the areas of CNG technology – due to the novel application and the impact on quality assurance, approvals and project schedule implications. Availability is also a concern for a gas 
contract where line pack or additional onshore storage is required, particularly in view of the incidence of fog occurrence at the ports in the area potentially impacting the unloading cycle.